StarForce
Audio/Video
StarForce Audio/Video solution is designed to protect audio and video files against copying, illegal distribution and unauthorized use.


We provide copy protection for
Educational/training
audio and video courses
Recorded live trainings
and seminars, etc.
Audiobooks
Our solution neutralizes
| | |
| --- | --- |
| | Industrial and home copying. |
| | Illegal distribution. |
| | Sharing of purchased files by customers. |
| | Screen capturing. |
| | Leaks of confidential information/intellectual property. |
You can protect your multimedia files any time you like from your workplace over the Internet.
Select the appropriate option for audio and video copy protection
| | | |
| --- | --- | --- |
| 1 | | Protection through the SFContent.com website. |
| 2 | | Protection through the Protection Studio application. |
| 3 | | Protection "on a turn-key basis" performed by the StarForce specialists. |
Protection through the SFContent.com website
| | | | |
| --- | --- | --- | --- |
| | Easy to use interface for protection setting | | Access activation with serial numbers (binding to the user's PC) |
| | Standard player | | Ideal for audio and video copy protection for not very large files |
Protection through the Protection Studio application
Copy protection for large video and audio files
Video and audio files are not uploaded on the site –
the protection is performed locally on the computer
An option to customize the player
Copy protection with any binding object: PC, CD, DVD, USB stick, local server
Programming skills are required
Minimal license period - 12 months.
An option to protect PDF files together with video and audio.
Support of Windows.
Protection "on a turn-key basis" performed by the StarForce specialists
| | | | |
| --- | --- | --- | --- |
| | The order will be ready very quickly | | You do not need to bother about protection settings |
| | You can select any binding method: PC, CD, DVD, USB stick, local server | | We can customize the player according to your demands/layouts |
Binding objects
A binding object is necessary to neutralize the possibility to copy the file and opening it on other devices. Read more about how it works.
Binding object
How it works
Use
Optical media (disc)


Protected audio and video files can be opened only if the original licensed disc is present (constantly or periodically, defined by the security settings) in the drive or in the device that plays DVD-discs present. Successful disk check is required at the first opening.
This binding method provides easy file distribution on optical media (CD/DVD/CD-R/DVD-R).

To learn more about DVD-Video protection, please contact our specialists.
Personal computer (PC)


Protected files can be played only on personal computers. To play the protected file for the first time, it's required to activate it with a serial number (activation is possible over the Internet, by SMS, phone, or email). The file becomes bound to the personal computer after activation and its further use is possible only on this machine.
This binding method allows you to distribute files on any media and over the Internet. The protected file can be uploaded on a public site for everybody to download. To start watching or listening, a user needs to purchase a serial number.
USB Flash Drive


The protected application can be run only if a special USB flash drive is inserted in the PC.
This is an ideal binding object for corporate learning.
Local/Remote server


Every time you launch the protected file, it sends a request to a local or a remote server to check the license restrictions of a serial number.
This binding method is suitable for corporate use, when you want to provide access to protected materials from a large number of computers with minimal effort for set up.
Our clients
| | |
| --- | --- |
| | Fully automated protection of audiovisual materials via the website any time you need. |
| | Protection is performed on the customer's side. |
| | High degree of protection for your intellectual property to be provided by the market leader. |
| | An option to add digital watermarks to protect copyright, including serial numbers, a text or a picture. |
| | Periodic license confirmation. |
| | Protection of video against duplication and screen capturing using home and professional tools. |
| | Protected files can be distributed without any restrictions on any media and over the Internet. |
| | Ability to customize player GUI. |
| | Reliable StarForce DRM system to manage serial number's parameters. |
| | Statistics reports for marketing analysis and sales forecasting. |
| | GUI can include documents, programs and links. |
| | An option to place advertising messages and questions into the video player. |
| | Reliable and flexible binding of protected files to optical disc, personal computer or server. |
| | Ability to bind a protected product to any USB flash drives. |
| | StarForce Technologies constantly issues updates and adds new features for StarForce Audio/Video. |
Video and audio are the most convenient formats for educational materials. StarForce Audio/Video makes it possible to protect your digital content from unauthorized distribution. Our clients use protection in different versions. We offer to get acquainted with the most interesting cases.
Protection of training audio/video courses
Publishers use different variants to distribute commercial educational courses. Such products can be available in audio or video formats and should be protected from copying to prevent piracy. This allows to get revenue for a long time, return the cost of creating and get profit.
Practicum Group
Practiсum Group specializes in training and qualification upgrades for sales staff. Unique trainings are distributed mostly among corporate customers.
To protect video materials, the company uses StarForce Audio/Video product with binding to PC and local server to insure the safety of educational technologies and methods against illegal distribution, as well as keeping the profits.
See the full text of the case + the client's testimonial .
Protection of internal corporate materials
Companies create educational materials not for sale, but for internal use. They may include the company's intellectual property or commercial secrets. Such materials are typically intended for internal staff or for partners, current and potential customers. To protect this kind of videos against copying and unauthorized use, we recommend to use StarForce Audio/Video solution.
Russian Railways
The Training Center of Russian Railways creates video courses to improve the skills of its own staff. Although there is a law to protect the contents of the discs, but the company decided to select a technical solution to protect their sensitive video against copying, hacking and unauthorized use of information.
They chose StarForce Audio/Video solution with binding to CD and DVD because it is easy to use. It has a digital watermark option and StarForce support team provides first class service.
See the full text of The Railway Training Center's testimonial.
Protection of movies in DVD-Video format
All issued DVD-Video movies are objects of pirate's attention. Soon after the official release, the movies appear on the Internet in the form of freely downloadable files. To protect movies, StarForce Technologies offers a dedicated solution for DVD-Video discs, suitable for DVD-players and other multimedia devices.
To obtain reliable protection for DVD-Video discs, please contact our Sales Department.
Protection through the website
Just enter the SFContent.com website and follow the instruction. The protected files are available immediately.
Protection with an opportunity to customize GUI
| | |
| --- | --- |
| 1 | Download and install StarForce Protection Studio and StarForce Player (supplied for free). |
| 2 | Integrate the audio and video files into StarForce Player. |
| 3 | Insert watermarks in the script of StarForce Player if it is needed. |
| 4 | Set the parameters of protection and binding via StarForce Protection Studio. |
| 5 | Customize the elements of the GUI. |
| 6 | Protect the product. |
| 7 | Prepare distribution package. |
| 8 | Test the protected product. |
| 9 | Start distribution. |
Protection and customization by StarForce specialists
StarForce offers the following chargeable services
StarForce Media Player customization. There are the following options:
| | |
| --- | --- |
| A | Plain customization means using ready-made StarForce templates with logo replacement. |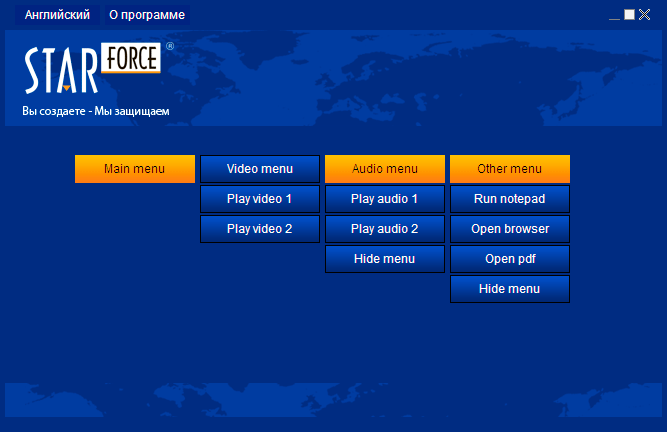 | | |
| --- | --- |
| B | Advanced customization means personal GUI customization. |
StarForce Audio/Video supports protection of the following file formats
Video
| | | | |
| --- | --- | --- | --- |
| | AVI (.avi) | | DVD (.vob, .ifo) |
| | MPEG (.mpeg, .mpg, .mpe, .m1v; .dat , .m2v) | | Matroska (.mkv (video with subtitles and sound), .mka (audio files), and .mks (subtitles)) |
| | HD Video (.m2ts, .mts, .tod, .wmv, .mpg, .mov) | | WMV (.wmv) |
| | MP4 (.mp4, .m4v) | | Flash (.flv, .swf) |
| | ASF (.asf) | | 3GPP (.3gp2, .3gpp, .3gp, .3g2) |
| | Quick Time (.mov, .qt, .m4v, .mp4) | | и т.д. |
Audio
| | | | |
| --- | --- | --- | --- |
| | Dolby Digital (.ac3) | | FLAC (.flac) |
| | AAC (.m4a, .mp4, .m4p, .aac) | | MP3 (.mp3) |
| | Windows Media Audio 9 Lossless (.wma) | | WAV (.wav) |
| | Ogg Vorbis (.ogg) | | RealAudio (.RA, .RM) |
| | MID, MIDI (.mid, .midi) | | |
Protection of CDA files (music CDs) is not supported.
Recommendations for protected audio and video files
| | | |
| --- | --- | --- |
| | | |
| The file or the folder size for binding to optical media should not exceed 2 GB | The file or the folder for protection through the SFContent.com website can have any size but we recommend not to exceed 4GB | The file size for binding to PC with protection through the Protection Studio application has no restrictions* |
If the file size exceeds the specified value, it is necessary to split it into several parts. In this case, the player settings must be changed to enable continuous playback of multiple files as a single file, or an on-screen menu can be created, allowing viewers to select certain files for playback.
Please contact us if you need a consultation from our specialist.
*Large size files can cause StarForce Player to slow down due to the unpacking of the container where the protected video is stored.
StarForce Audio/Video basic functions
Protection features
| | |
| --- | --- |
| | Protection of multimedia files against illegal copying and distribution. |
| | Protection of unlimited number of files. |
| | Protection against capturing the screen by home and professional tools. |
| | Protection of updates of an already protected product. |
| | Player GUI customization. |
DRM features
Licensing options and settings (binding to computer)
| | | | |
| --- | --- | --- | --- |
| | Serial number expiration date | | License start date |
| | License activation date (activate no later than …) | | Periodic license confirmation |
| | Serial number regional settings | | Maximum number of runs setting |
| | Continuous run setting | | Serial number blacklisting |
| | Maximum number of connected users setting | | Access to statistics of generation and activation of serial numbers |
| | Serial number editing | | |
Supported operating systems
| | | | | | |
| --- | --- | --- | --- | --- | --- |
| | Windows Vista 32/64-bit | | Windows 7 32/64-bit | | Windows 8 32/64-bit |
| | Windows 10 32/64-bit | | Windows Server 32/64-bit | | |
Supported optical media types
| | | | |
| --- | --- | --- | --- |
| | StarForce CD-Recordable (680 Mb capacity) | | StarForce DVD-Recordable (4490 Mb capacity) |
| | CD-ROM (700 Mb capacity) | | DVD-ROM-5 (4,7 Gb capacity) and DVD-ROM-9 (8,5 Gb capacity) |
Additional options
| | |
| --- | --- |
| | Ability to add passwords to menu items in the player. |
| | Ability to add questions while playing files. |